WBHO Infrastructure are a leading earthworks and civil construction services company. We deliver these services to the transport, infrastructure, resources, energy and telecommunications sectors across Australia, primarily in Western Australia, Victoria and Queensland.
WBHO Infrastructure have been operating in Australia for over 2 decades. We currently employ over 400 personnel, with a self-owned and maintained fleet of over 200 major plant items.
Through the combination of a loyal and dedicated workforce, visible and committed leaders, accredited management systems and well-balanced initiatives, we maintain a safe, healthy and rewarding workplace. Our employees are motivated and challenged, understanding that they play a vital role in the safety and success of WBHO Infrastructure. Our leadership team is recognised for their hands-on approach and inclusive culture. Ongoing engagement and communication underpin our excellent HSEQ performance.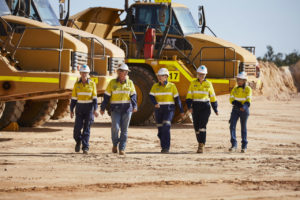 Working closely with our clients, we provide our clients with certainty of delivery, and we have a well-earned reputation for reliable project delivery with a genuinely collaborative approach that is not commercially aggressive, or variation focused.
WBHO-I regularly self-perform contracts and are adept at managing our people, plant and material resources to meet quality, cost and scheduling requirements. We consistently aim to minimise risk and ensure certainty of delivery.
We have experience in the delivery of projects through a variety of contract models including ECI, Design and Construct, Construct Only, PPP, Alliance, Joint Ventures, Schedule of Rates and Dayworks.
WBHO Infrastructure is part of the WBHO group.  The parent company was established in 1970 and is South Africa's leading infrastructure contractor, publicly listed on the Johannesburg Securities Exchange. In Australia, we are a subsidiary of the WBHO Australia group of companies, which include Probuild and Monaco Hickey.
Capability
Leading Australian earthworks and civil construction company
We deliver civil construction and maintenance services across the resources, government, transport infrastructure, aviation and utilities sectors.
With an extensive list of in-house owned plant and equipment and a fully flexible and mobile workforce, we deliver a range of earthworks services. WBHO-I has repeatedly demonstrated our ability to rise to any project challenge and deliver excellent project outcomes. Because WBHO-I regularly self-perform contracts, we are adept at managing our people, plant and material resources to meet quality, cost and schedule requirements, minimising risk and increasing certainty of delivery.
Our Earthworks Capabilities include:
Bulk and Detailed Earthworks
Pre-strip and Topsoil Removal
Waste Management Facilities
Drainage
Rail Formation
Services and Utilities
Evaporation Ponds
Storage Areas
We deliver transport infrastructure projects in both high traffic, built up metropolitan locations and remote areas with challenging logistics requirements. Our teams are renowned for their innovative approach to project delivery particularly in the areas of project staging and traffic management.
Our capabilities include:
Roads
Bridges
Freeway Widening
Intersection Upgrades
Maintenance
Our Pre-qualification
| Agency | Region | Roads Rating | Bridge Rating | Financial Rating |
| --- | --- | --- | --- | --- |
| Main Roads | Western Australia | R5 | B4 | F150 |
| VicRoads | Victoria | R5 | B4 | F150 |
| Department of Transport and Main Roads | Queensland | R5 | B4 | F150 |
| Aust Roads | National | R5 | B4 | F150 |
WBHO Infrastructure provides our partners with civil construction services across all stages of the project life cycle. Our continued success is driven by our ability to deliver innovative, value for money outcomes to our clients. Over the past 2 decades we have delivered a range of resources infrastructure projects in the Goldfields, Pilbara and South West regions of Western Australia.
Our specialist civil construction capabilities include:
Earthworks – Bulk and Detailed
Tailings Storage Facilities
Storage and Evaporation Ponds
Haul Roads and Transport Infrastructure
Sitewide Civil Construction and Maintenance
Steel Arch Tunnel Structures
ROM Walls
Drainage Structures
Aviation Infrastructure
Mine Site Rehabilitation
Our expert maintenance capabilities are applied through our long-term contracts across transport, energy, ports & marine sectors. We work with our clients to provide input into lifecycle planning, early contractor involvement for complex works that often involve multiple interfaces with mining operations and staging plans to de-risk delivery.
Industrial Infrastructure – Refineries
Ports and Maritime Infrastructure
Telecommunications
Defence Infrastructure
HDPE Installation
Pipelines - Pressure and Non-Pressure
Water Infrastructure
In-ground Services
Pump Stations
Stormwater Management Systems
Reservoir Refurbishment
Wastewater Treatment Plants
Our Naval Base Operations, are specifically focussed on delivering civil construction and maintenance projects, further information regarding our facilities and capabilities can be found here.
Our specialist aviation infrastructure teams provide airfield pavement construction, rehabilitation, strengthening, surfacing and maintenance services. We are experienced working airside in live environments that require close interface with airport operations. Our teams deliver both private mining airfield and public airport projects in metropolitan, regional and remote locations across Australia. We regularly undertake works in shutdown environments and have a strong track record for providing program and cost savings through innovative aviation construction staging and design optimisation.
We also have strong established relationships with specialist aviation planning and design consultants, that can work closely with our clients and WBHO-I to optimise the constructability and operability of projects.
Our specialist aviation infrastructure capabilities include the following services:
Earthworks
Pavements
Aprons
Parking and Taxiways
Service roads and Perimeter roads
Aircraft Ground Lighting
Construction Planning and Optimisation
Early Contractor Involvement (ECI)
Design Management
Quality Management